Hi, readers!

I have planned to re-arrange my blog! yippie :))Well, for several time, i didn't touch this blog, at all. Am have to much (probably a bit useless) activities out there and sometimes i regretted it. I just wasted my time because i did to much activities and not focus in one thing. Easly bored, yeah you know. B probs. I did a bit research these days about blog, because i have commited my self to touch my blog in this semester break. When i did it i found that my blog was to childish and... messy. I looked carefully at my muses blog, they were consistent in posting, they have they own theme and character, and they also have interesting categories. So, i decided to follow my muses.

Did you ever heard about Evita Nuh? Diana Rikasari? Sonia Erika? The fashion bloggers. Yea, they're my blogger muses. I've been following them since the first time i was active in blogging, so it's about when i was 14, 5 years ago. I can't believe this blog has been so old (gasp). That means a year after Sonia Eryka has started her blog and 2 years after Evita Nuh started hers. They are already gorgeous back then, Evita Nuh with her cute messy teeth and also her cute hair, Sonia Eryka with her tatoos, her music covers, her so-WOW colored hair, and Diana Rikasari with her quirky and colorfull style and that lovely chubby cheeks. Wait, i'll show you how were they looked like 5 years ago.


DIANA RIKASARI
This is how was she looks like. quirky, colorful, and chubby!
2010 was the time when she started to getting noticed by some famous magazines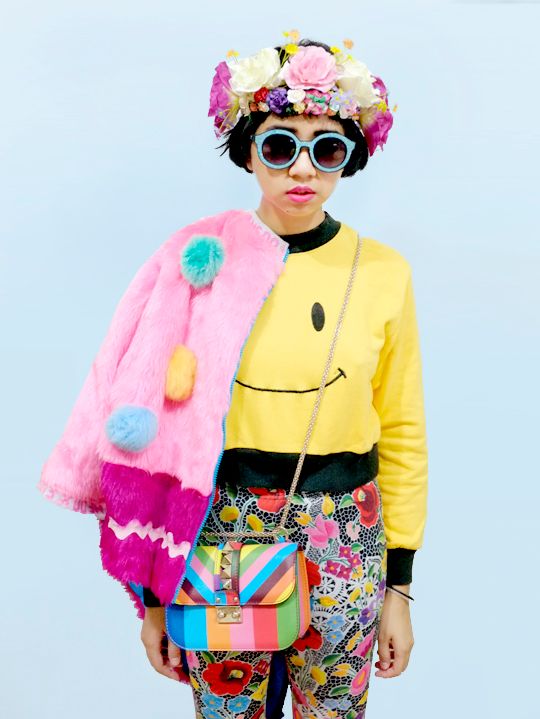 and this is her right know. Diana v.2015. hihi, nothing changed with her style, i love it.
And here she is, in 2015 has become the most famous fashion blogger in Indonesia, an entrepreneur, and a book author. woohoo!
EVITA NUH
Evita Nuh on 2010, cute little girl who has cute fashion taste.
I suddenly remember how amazed i am when i read the story about
her visit to brightspot market 2010.
12 years old girl wrote posts in english was just.... amazing for me.
In that age, she has already featured in several magizines, offline and online.
and this is Evita ver.2015
now she's a blogger, creative director, freelance photo editor, assistant photographer, and columnist.
SONIA ERYKA
Sonia Eryka when she's travelling to Jogja in 2010, blogger.
Sonia Eryka ver. 2015
now she is an insternational fashion blogger, an owner of a cafe called ninotchka, and also an owner of "Riotous".
Well then, how about me?
IBRANESA NISSREYASA
it's me, 14 y.o. ordinary HS student who loved to sell things and very spendthrift.
Me ver.2015, 19 y.o. (still) an ordinary student who suddenly love photography and a newbie igers. I am happy and grateful with my current life, but there are still to many goals that haven't accomplished yet. So, say hi to the happy goals catcher :)
Stay tune with my blog, readers, i'll try to post frequently and re-design my theme :)) See ya!
XOXO -unemenel-